Abdullah The Butcher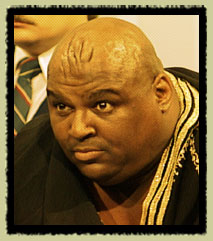 There are many words that can be used to describe Abdullah the Butcher. Some of these words are insane, sadistic, bloodthirsty, and psychotic. He is a true wrestling legend and will be remembered for years to come!



Abdullah was born November 2, 1936. His birth name is Lawrence Shreeve. He was not born in Khartoum, Sadan like was once believed but in Windsor, Ontario, Canada.



Abdullah's career in wrestling started in 1958. He started out wrestling in several independent promotions across Canada. His gimmick was an evil Arabian from the sandy barrens of the Sadan.



It didn't take long for him to become on of the most hated villains in wrestling history. He has wrestled all over the world. In the 70's, 80's, and 90's. He was a huge draw for promoters in Japan (were he wrestled as Kuroi Jujutsushi, Black Wizard), Puerto Rico, Australia\ New Zealand, Europe, and his home country Canada (unknown to his fans at the time).



He was sometimes brought in to take care of the baby face wrestlers. Like a "hit man."



Abdullah's style was never what you would call "technical" wrestler. He is more of the bloody, violent, brute force style.



Abdullah style is hardcore! He had a total disregard for his safety or his opponents. That will carry on in many of our more brutal matches. Such as barbed wire matches and steel cage matches. Abdullah has influenced many wrestlers and will continue to influence them for many years to come.



His matches were almost always bloody and gruesome. Even more so when he wrestled people that are as deranged as he is. Wrestlers like Cactus Jack, Harley Race, and the Funks.



Abdullah never stayed in any territory for any length of time. So his gimmick wouldn't get stale. Despite this he still won an impressive number of titles.



Despite having passed 60 years old. Abdullah still wrestles but not like he did in his prime. He only does select appearances mainly for NWA. He also owns and operates Abdullah the Butcher House of Ribs and Chinese Food in Atlanta, Georgia.