"Classy" Freddie Blassie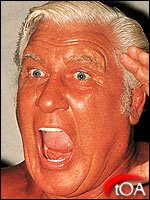 Freddie had been in professional wrestling for 40 plus years. First as a wrestler than later after a knee injury he became a manager.



No matter what Freddie was doing he was one of the most hated men in wrestling. If there was one word that would describe him it would be "Evil". He was nicknamed "Vampire", because of his sharp teeth he would use to bite his opponents and draw blood. He often claimed that he would sharpen them!



Freddie started wrestling when he was a teenager. After some time his dues were paid and he became an accomplished wrestler. He had some struggles in the beginning of his career but he over came them to reach the top of his career.



In 1954 he won the NWA Southern Heavyweight title. This was just a start of things to come.



Freddie would go on to hold the NWA Southern Heavyweight Title 14 times between 1954-1960. From there he would move on to Los Angeles to join World Wrestling Alliance. Were he would push the boundaries of how hated a wrestler can be.



He would win the WWA World title 4 times between 1961-1964. He also won WWA Tag Team Title (2x), NWA America's Heavyweight Championship (5x), the Georgia Heavyweight Title, and the Beat the Champ TV title. He also held the NWA America's Brass Championship, which he held for 5 years between 1969-1974.



Next he would go on to join the WWWF. Becoming their top heel and adding Captain Lou Albano as his manager. He would have some violent matches like few others.



He and Bruno Sammartino had several classic matches. He would come close to beating Bruno for the WWWF World Championship Title a few times, but never did.



Soon after Freddie started managing some the meanest most hated men in the sport! He would become part of the "Evil Trinity" of managers. The "Evil Trinity" was Captain Lou Albano, Freddie Blassie, and The Grand Wizard.



Freddie mainly managed evil foreign wrestlers such as Peter Maivia, Nicolai Volkoff, and the Iron Sheik. He also managed some of the top American wrestlers as well, such of Jesse "The Body" Ventura and George "The Animal" Steele.



Freddie is also responsible for introducing the young heel Hulk Hogan to the WWF in 1979! In 1994 Freddie was inducted in to the WWF Hall Of Fame! Sadly Freddie Blassie died on June 2,2003.