Sharkboy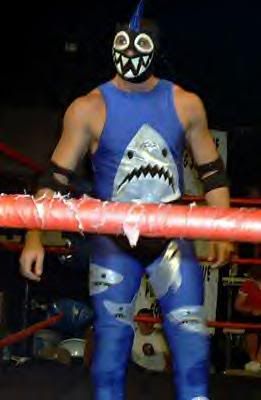 Shark Boy is one of the more unique independent wrestlers found on NWA-TNA and various independent leagues. He hails from 20,000 leagues under the sea!

The first thing you will notice about Shark Boy is his ring attire. His tights are blue and black with sharks on the side. The most dominant part of his ring attire is his mask. It has a shark fin on the top and has shark teeth. Aside from his attire he has a very colorful ring antics.


Veteran trainer Les Thatcher trained Shark Boy. His first wrestling debut was in 1997, in Thatcher's Heartland Wrestling Association in Cincinnati, Ohio. He also wrestled for Ian Rotten's IWA Mid-South in Louisville, Kentucky.

It didn't take long for Shark Boy to get a large fan following. His fans are called "Fin Follower" and "Shark Marks". His fans are of all ages and easy to spot! They either wear a Shark Boy mask or they have there hands on there heads like a shark fin, this is called the "Shark Salute".

Shark Boy's first title shot was in 1998. Against Terik the Great. The match was for the HWA Cruiser Weight title. He did not win this match and didn't win this title until 1995. Which he had to later forfeit.

Shark Boy really started to get noticed by Pro Wrestling Insiders after his appearance at the second annual HWA Brian Pillman Memorial Event at Cincinnati Gardens in May of 1999. That night Shark Boy went on the win the Pillman Cruiserweight Championship.

He had defeated his first two opponents using him patented finishing move the Deep Sea Drop (DSD). By his third opponent he was worn out and just barely won by pinning Chip Fairway. After winning this match Shark Boy landed on the pages of several wrestling magazines. Which caught the attention of WCW.

The following week he finally won the HWA Cruiserweight title from Bobby Cassanova. Soon after this he was approached by WCW to wrestle on a Monday Night Nitro taping in July. After holding his HWA Cruiserweight for only 2 months he had to forfeit it when WCW signed him to a developmental contract. This contract only lasted 6 months.

Shark Boy has finally made his WWE debut in April of 2004. He is also continuing to appear on TNA and in other independent leagues.

The titles that he has held are IWA Mid-South TV Title, HWA Cruiserweight Title, NWA-East TV Title, Raw Cruiserweight Champion, HWA Heavyweight Champion, NEPW Cruiserweight Championship, HCW Heavyweight Championship, PCW Heavyweight Championship, IWA Mid-South Light Heavyweight, NBWA Heavyweight Championship, and BPW Heavyweight Championship that he still holds.

Watch for him coming to an ocean near you!