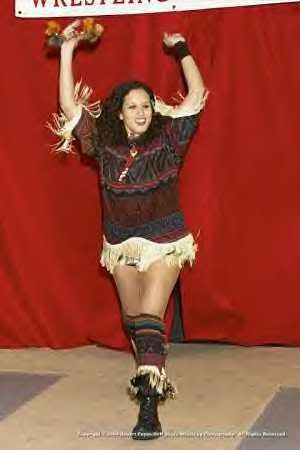 1. When did you decide to go in to wrestling?

I seriously decided to get into wrestling my freshman year in college. It
wasn't until a few years later, though that I started training. I did a lot
of research on where to train first. I wanted to find a really good
training center.

2. Since you are of Native American background did going in to wrestling go
against any of your beliefs?

No. I show pride in my heritage and handle myself professionally. There is
nothing I do in the ring that would bring shame to my people.

3. Did you have a lot of support from your friends and family?

When I first started, my family saw me come home beaten up and bruised. It
was hard to support seeing me in so much pain. But, after a while, they
were able to see the passion I felt about wrestling and how much I loved it.
They are very supportive now.

4. Where did you do your training?

I began my training at the IWA Cruel School of Professional Rasslin' under
head trainer, Rapid Fire Maldonado. He encouraged me to train with others
as well. So before shows and ring rentals, I'd get into the ring and
practice with my trainer and the other workers on the show. You never stop
learning. I continue my training at a variety of places. I feel that by
learning as much as I can from different people, it'll make me more rounded
and a true student of this sport. I have attended dojos with legends such
as Terry Funk as well. But Rapid Fire is the person I credit as my main
trainer.

5. Who trained you?

See the above question.

6. Do you find it hard being a female in wrestling?

I train with mostly guys and grew up a tomboy, so no, not really.

7. How would you describe your wrestling style?

My style is definitely a mix. I prefer old school with some technical &
high flying thrown in. To be honest though it really depends on who I am
wrestling. For example, a girl like Mercedes Martinez is stronger and
bigger. I have to rely on my speed to win. There's no way I can outpower
her, so I do some technical and high flying, but the speed & intelligence is
key. Most of the people I wrestle are bigger than me, so that tends to be
my style. But I love a straight up old school match.

8. Do you valet as well or are you strictly a female wrestler?

I do not manage that often, but I do from time to time.

9. What is your standard ring attire like?

It varies a bit, but I try and stay with a tribal theme. I am definitely
dressing more sexy these day though.

10. What is your favorite wrestling move?

I have a bunch that I love. I love fijiwara armbars, northern light
suplexes, armdrags, hairdogs (modified bulldog) and tons of different
variations of getting into the armbars or switching it up with variations of
the tomahawk chop. The move that I am better known for is the tomahawk chop
and it's variations. I call it the tomahawk chop of death.....well actually
Angel Williams named it that and the name stuck.

11. Are there any wrestlers that you hope to have the opportunity to wrestle
someday?

There are so many people that I want to wrestle. Way too many to name.

12. Who is your favorite wrestler?

Again, a question where I could name a bunch. I'll break it down a bit and
only name a few.
FAV GROWING UP: Ricky "The Dragon" Steamboat & Ivory (Tina Ferrari/Nina)
CURRENT: Chris Jericho, The Rock, Victoria,& Molly Holly. I can't even
begin to go into the Indies, there's so much talent there, I have tons of
favs.

13. What is your favorite type of match?

One on one, old school match. Tag matches are great too.

14. So far what do you think was your finest wrestling moment?

Winning the 2004, 3rd annual WXW Elite 8 Championship. Previous winners
were Tracy Brooks & April Hunter. I competed agained some of the toughest
and most talented women in the USA. Winning is something I will never
forget. Neither will my body, I was beaten up big time.

15. What is your wrestling goal?

To learn as much as I can. I want to wrestle all over the world and
eventually make it to the WWE.